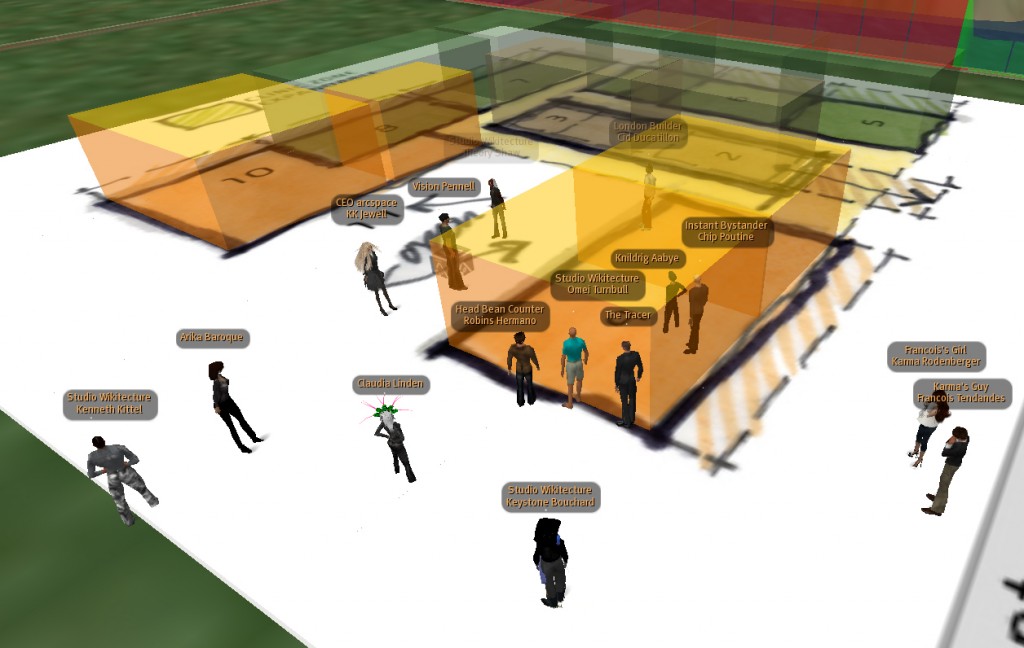 The United States Department of State Bureau of International Information Programs invites you to attend: "Architectural Design and International Collaboration in Virtual Worlds."  The panel will discuss how architects utilize virtual technologies for international development partnerships.  Panelists from various countries will explore the efficiency of virtual worlds and shared 3D design platforms as environments conducive to cross-cultural collaboration.
Sunday, October 18, 2009
10:00am Pacific Daylight Time (PDT) or 10:00am Second Life Time (SLT)
1:00pm in Washington DC
7:00pm in Cairo, Egypt
The panelists for this event (and Second Life avatars):
Amr Attia (Archi Vita), Architect,
Urban Planner and professor of architecture and urban planning at Ain Shams University in Cairo, Egypt
Jon Brouchoud (Keystone Bouchard), Owner, The ARCH Network,
Studio Wikitecture Founder based in Madison, Wisconsin
Judy Cockeram (JudyArx Scribe), Architecture Professor, School of Architecture and Planning,
The University of Auckland, New Zealand
David Denton (DB Bailey), Architect and Urban Planner located in Marina del Rey, Los Angeles, California
President Barack Obama, in his speech from Egypt this June, spoke of international collaboration as a high priority for all: "We will match promising Muslim students with internships in America; invest in on-line learning for teachers and children around the world; and create a new online network, so a teenager in Kansas can communicate instantly with a teenager in Cairo."
Can virtual worlds be the online network that facilitates international collaboration? Projects like Studio Wikitecture led by Jon Brouchoud and Ryan Schultz in SL demonstrate that 3D virtual spaces can be a rich and useful toolkit for architects to work together and share common elements. This panel will explore cooperative design projects where international architecture in virtual space may be more efficient than a flight from the United States to Egypt.
Amr Attia and David Denton have worked together as architects in Second Life for the last two years. Their ongoing work has brought unique benefits to Cairo and California where these gentlemen architects work in their respective studios. Amr and David will share their experiences followed by a tour of their reimagined Cairo mall built in Second Life as a example of architectural collaboration across borders.  Judy Cockeram, a professor of architecture at The University of Auckland in New Zealand, will share how her students have used Second Life to redesign public spaces with stakeholders and organizations.
The State Department Bureau of International Information Programs (IIP) explores 3-D virtual world platforms like Second Life for showcasing and hosting IIP products and services.
IIP engages international audiences on issues of foreign policy, society, and values to create an environment that can be receptive to U.S. national interests and foster open dialogue. IIP communicates with foreign opinion makers and other public audiences through a wide range of print and electronic materials published in seven world languages. IIP also provides information outreach support to U.S. embassies and consulates in more than 140 countries worldwide.
Teleport Location:
Annenberg Island in Second Life
http://slurl.com/secondlife/Annenberg Island/181/97/25
Points of Contact:
Bill May (Serotta Keynes), U.S. Department of State       virtual-iip@state.gov
Denise Pirnia (Mishie Sands), U.S. Department of State    pirniada@state.gov
Evonne Heyning (In Kenzo), Event Producer      evoamo@gmail.com
Group Information in Second Life:
For more information about upcoming events, please register for our group "Public Diplomacy"
Expectations for this Event
The panelists will use streaming audio capabilities to broadcast into Second Life.  We request that all participants use the typed Public Chat window for all comments and questions during the event.  The Public Chat window will also be used during the Question and Answer part of the event.  Tourguides will include links and visits to key architectural builds after the panel event.
We request that guests arrive at least 15 minutes prior to the beginning of the virtual event; this will ensure you have time to address technical questions.  Upon arrival please take a seat in one of the audience chairs facing the panelists and click the play arrow at the bottom left of your screen next to the musical note icon to start streaming audio.
If you have any questions regarding the organization of this event please send an email or Instant Message to Mishie Sands or In Kenzo in Second Life.  If you run into technical issues during this event please IM Schlink Gardner, Resident Annenberg or Buffy Beale inworld.