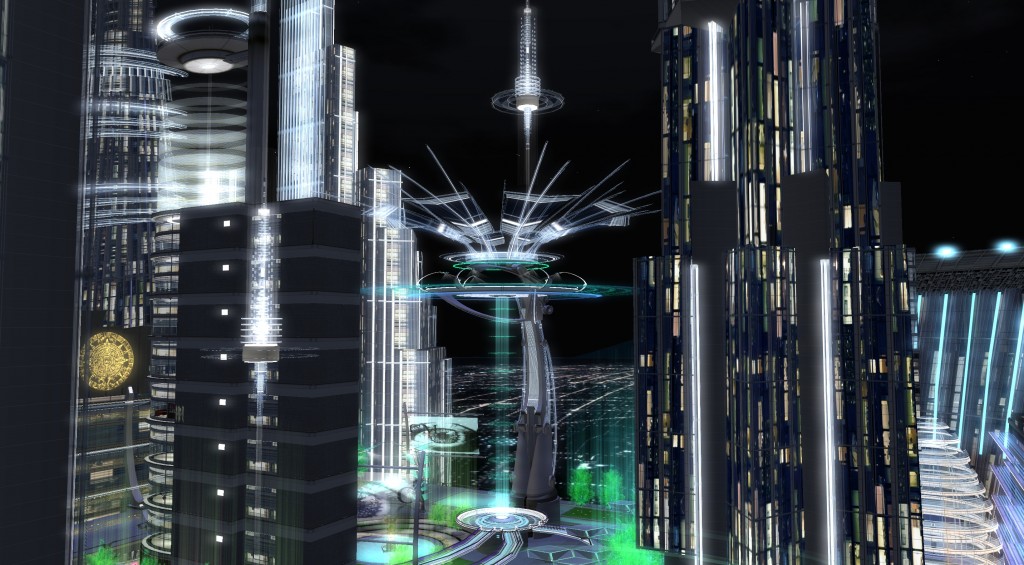 The architecture, the narrative, the graphic design – its all spectacular, with mind boggling attention paid to detail and overall experience. The sim design/builder, Patch Thibaud and his team at Pixelhaus Design Studio have been on fire in recent months, completing some of the most impressive builds I've seen in SL, including the Best of SL Boulevard, Casablanca Boulevard, the Patch Thibaud Auditorium and the competition entry I featured in the previous post.
What I like most about Patch's work is the use of experience and narrative in virtual architecture.  As we collectively struggle with the tension between 'real' and 'virtual' architecture, Patch has taken a decidedly hybrid approach in style.  Though his builds grow from a taproot in real world representation, they blend with fantastic 'NPIRL' expression – soaring to great heights, built of impossibly light-weight materials and techtonics.  In each of Patch's builds, the juxtaposition and balance between the two seems to be a consistent driving aesthetic force, and he manages to balance the two masterfully.  I think the Ciudad de Mexico build is an apt expression of his style – transitioning from historic archeological elements into an atmospheric, sci-fi, futuristic atmopshere.
Here is the SLurl – but don't miss the 'undercity' experience – I founded it by falling into the water fountain near this SLurl's landing point.