Hometta, a collective of award-winning architecture and design studios, will soon be launching an opensim-based grid called 'H-Town,' showcasing a virtual neighborhood modeled after the innovative, modern house plans they sell on their website.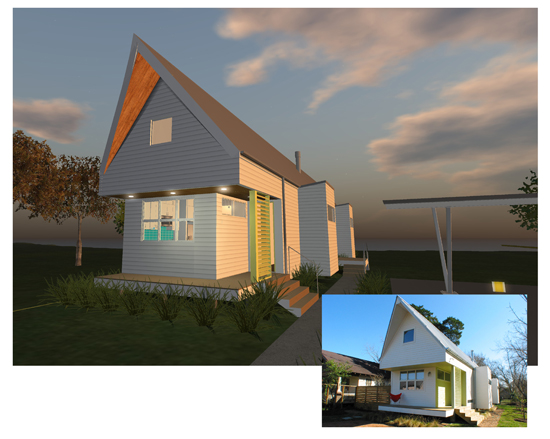 With Hometta's stated goal of 'improving the residential landscape, one house at a time,' they will soon be enabling their customers to spend as much time in their soon-to-be new homes as they wish, from the comfort of their home computers.  They can invite friends and family members to explore the designs with them, and could feasibly use the virtual model to test paint colors, material types and finishes – even landscape options and furniture layouts.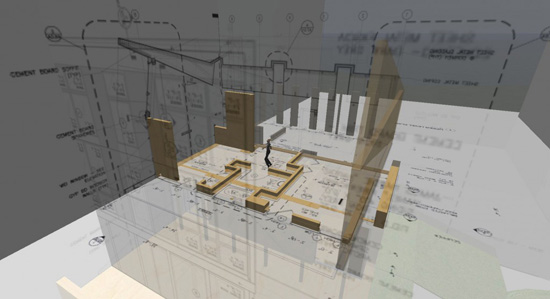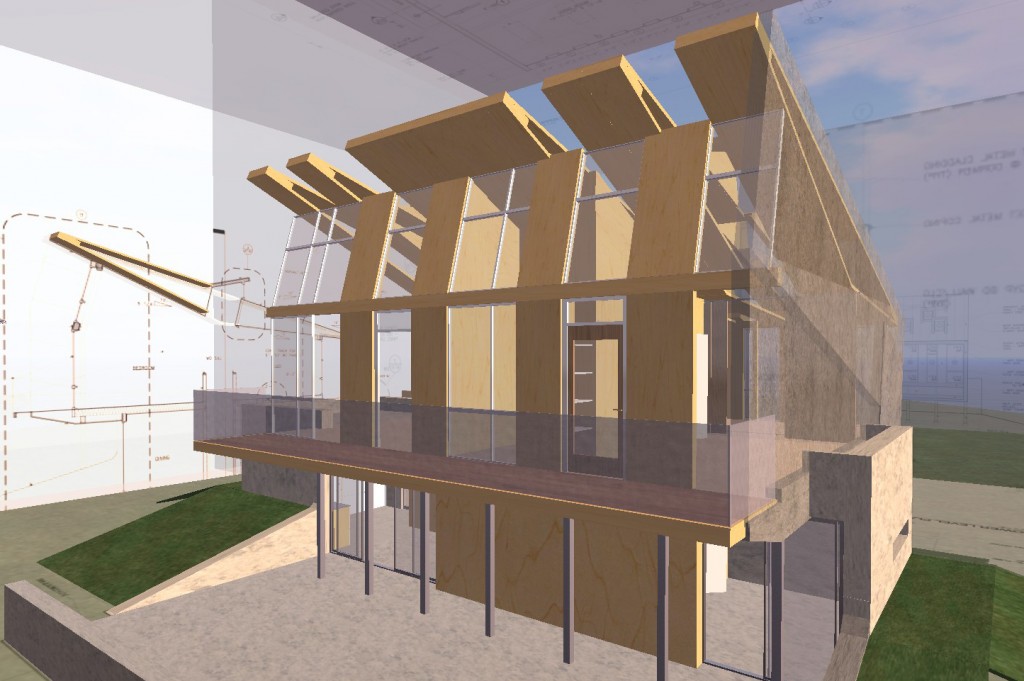 There are a number of reasons I'm excited about their upcoming launch – not the least of which is the fact that they got started on our very own Architecture Islands opensim community (alongside sims owned by DB Bailey, Patch Thibaud, Malaquais school of architecture and others), before upgrading to a more comprehensive grid package we offer at a discounted rate for architecture-related projects through ReactionGrid. I also had the opportunity to provide training services, working directly with their main builder and sim designer Tzu-Yu Chen, who quickly mastered the prim skills and produced an entire neighborhood of these super innovative, modern house designs by working from imported CAD blueprints.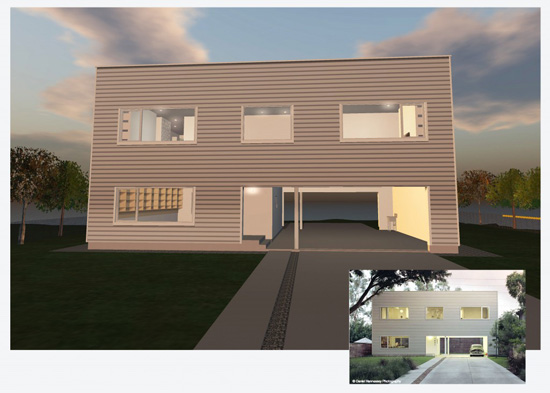 I think this is a very appropriate and timely application of the opensim platform, and a great way for Hometta to engage their existing community and entice new members.    As it becomes easier to import architectural CAD and BIM models in the months and years ahead, I think anyone building new construction will rightfully come to expect this kind of immersive visualization – and Hometta will clearly have a head start in providing some of the most advanced, interactive virtual experiences available online.
But there's so much more to it than visualization.  Hometta is as much a community and resource for anyone interested in smarter houses as it is a place to buy blueprints.  By offering their community a place to meet each other in a realtime, immersive environment, staged within a contextual framework of smart, modern houses, they're  leveraging H-Town as a 'place' or a catalyst toward instigating cross-cultural exchanges about residential efficiency and what 'house' means throughout the world.
Rather than flipping through the pages of a magazine, or browsing a website as a passive observer, H-Town gives you a presence – a place where you can see and be seen.  To me, this is so much closer to the way we actually experience architecture in the real world, and represents the future of every kind of online architectural resource.
Looking at a picture of a house is great, but experiencing a house in an immersive, realtime environment alongside others is much better.  I had seen Hometta's plans on their website when the project was getting started, and liked what I saw – but only realized how dimly aware I really was of the house's actual look and feel of the house when Tzu-Yu finished building the virtual model and I could step inside of it and walk around at my own pace, discussing various features of the design along the way.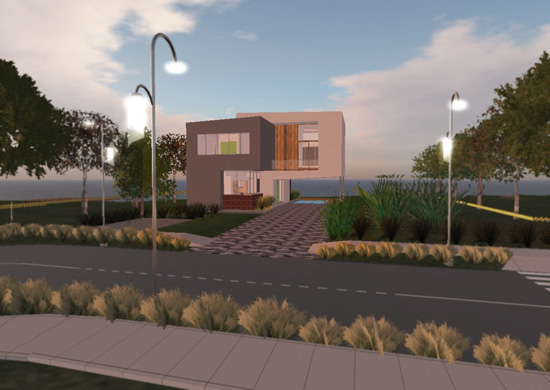 If you've ever tried to build a house that isn't 'normal' in every way, you're already acutely aware of the push-back heard from builders, real estate agents, neighbors, and even friends and family.  There's an enormous pressure to conform, and the fear factor can be overwhelming.  What's worse is that it doesn't even matter if the house will be smarter, better looking, or more efficient – if it isn't a vinyl clad, cookie-cutter McMansion, you can expect to defend yourself at every turn.   At H-Town, you will soon be able to gather the resources you'll need, meet other like-minded people, and share your experiences or fears – which could be exactly what this new direction in residential design needs – a virtual support group, and a place to go and get inspired.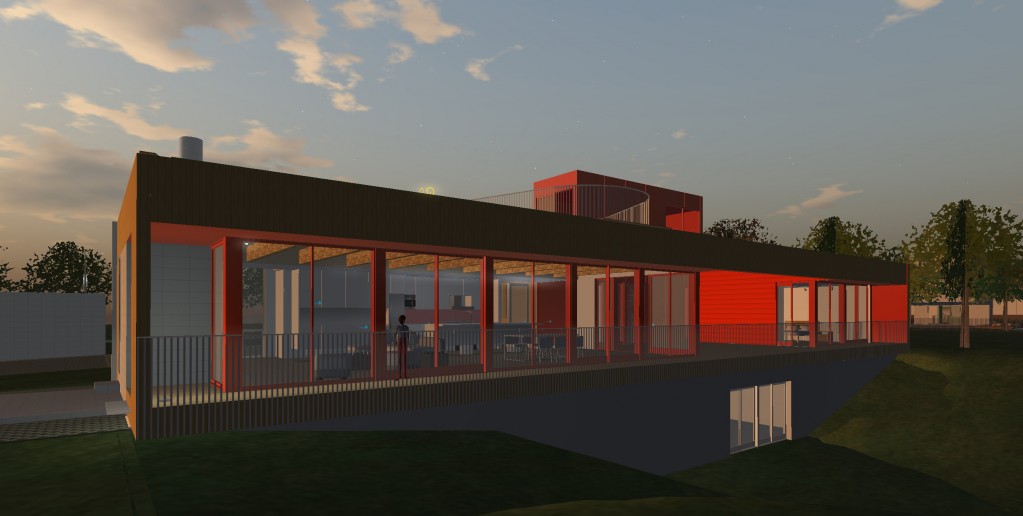 While the online community may be global, the key ingredients in Hometta's offering deals more with the value of working within your local community.
'Hometta believes that products and houses should be built in and by local communities.  Instead of paying for carbon-emitting overseas construction and transport, why not put your money right back into your local economy?'
I haven't spent much time exploring their Construction Guide, or blueprints kits, but they appear to be a blend of DIY methods and professional services of fabricators and contractors through downloadable cut sheets and more.  I can definitely see the future of virtual H-Town including integration with computer aided manufacturing (CAM) processes, where you could explore not just how the house will look after construction, but experience the fabrication process itself, and use it as a communication tool to help local trades better understand these alternative construction techniques.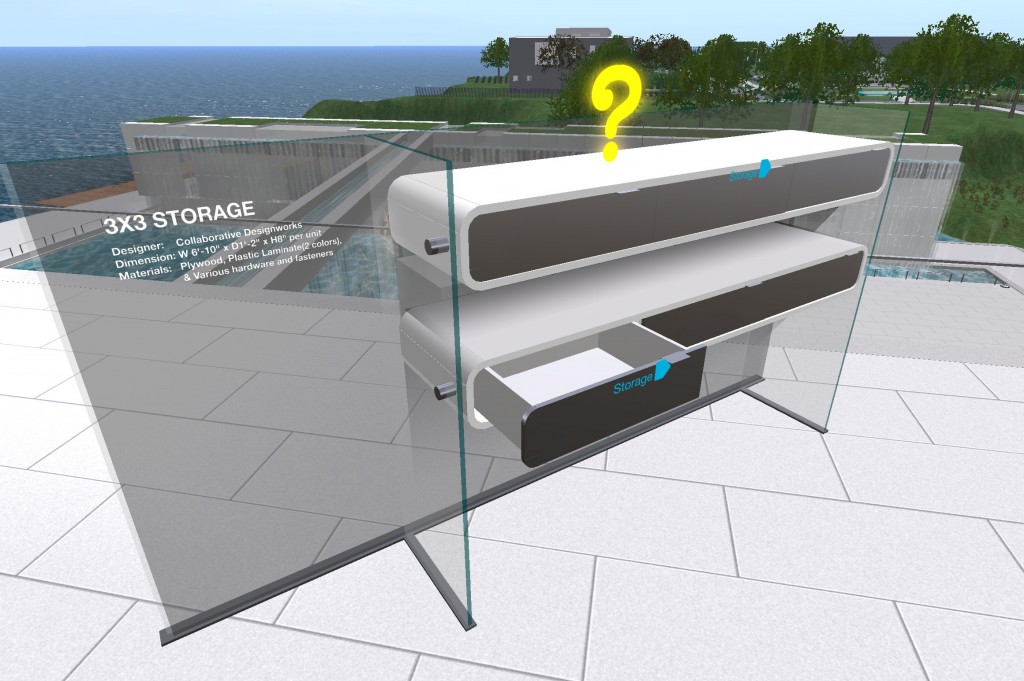 Hometta's holistic approach to residential design and construction is exactly what is needed as we necessarily hit the 'refresh' button on the home construction sector as the economy starts to recover.  The very last thing we need is a return to the status quo, and another glut of dull, lifeless suburban houses that take the very beige, or 'least common denominator' approach to resale value and cost per square foot.  We need a serious break from those accepted norms and expectations, and Hometta's approach is an attempt to do just that.  Hometta founder Mark Johnson says it well in the video below, comparing the process of buying a house to buying a car.  When people consider a car purchase, they think carefully about fuel efficiency, cost of maintenance, emissions etc. Whereas with houses, we generally focus exclusively on the size, and the cost per square foot.
"To me, that's like saying my car is $40 per horse power…. My hope is that people will begin thinking long term.  Can I afford this house?  Can I afford to build a huge house that I can't afford to pay the utility bills in?"
Tzu-Yu has also designed a very elegant and inviting series of showrooms and welcome areas on the H-Town grid, where visitors can learn basic orientation and discover ways to interact with the various homes in the virtual neighborhood.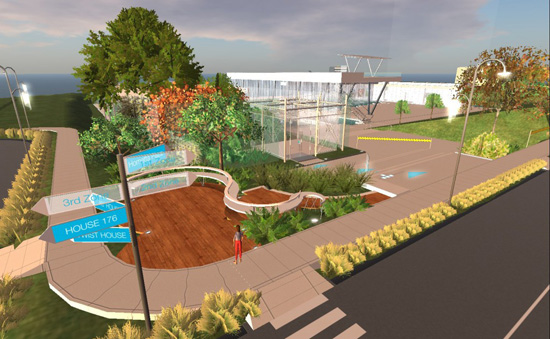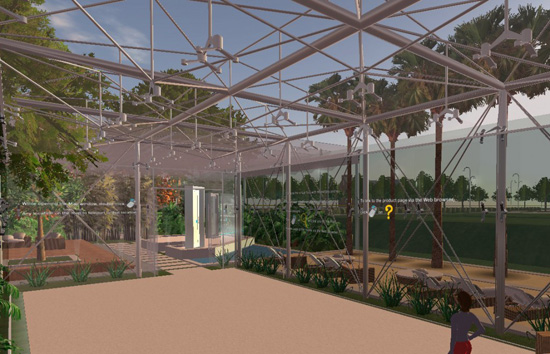 Stay tuned for a future post after H-Town launches, with instructions on how to access their new grid.  Congratulations to Hometta on an exciting and cutting edge new project!