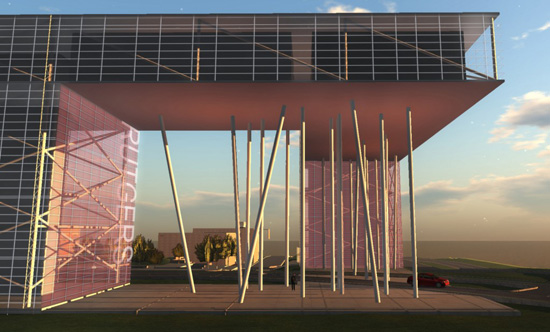 A virtual prototype of the proposed Rutgers Business School, designed by the internationally renowned architecture firm TEN Arquitectos (frequently covered by arcspace), will soon be opening in Second Life – commissioned by Rutgers University.  A larger, more detailed version will later be opened on their OpenSim grid.  I had the opportunity to work on this project, interpreting schematic plans, sections and illustrations, which will be completed just in time for this Saturday's 'Rutgers Day 'celebration – held on their real life campus, and virtual campus in Second Life.
The Second Life and OpenSim models will certainly enjoy some key advantages over typical architectural illustrations or animations.  Looking at an illustration of a building is helpful, but being able to invite anyone, anywhere in the world to experience the design in an immersive, realtime environment is better. We rarely experience architecture alone in the real world, and the virtual model enables us to invite friends and colleagues to explore and discuss a design together – becoming active and dynamic part of the experience, rather than viewing it as a static or passive observer.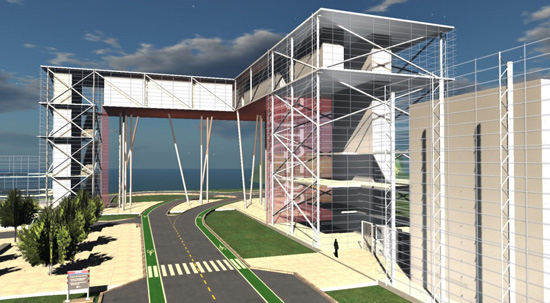 The virtual model also costs the same or perhaps less than typical architectural illustrations.  I have experience in both methods of illustration, and can say with confidence that the cost of a virtual replica is on par with what most professional illustrators charge, but the final deliverable offers far greater value.  Whereas static illustrations, or prescriptive animation paths are tightly controlled and limit what the viewer is able to experience, the virtual model can be experienced (if you choose) by anyone, anywhere, 'in the round.'  In this case, the entire student body and faculty will have an opportunity to visit and explore this design in its entirety, long before construction starts.
Shouldn't every new campus building be available for virtual previewing by students and faculty?
The Second Life campus was replicated at 1:1 scale, exterior only, set within several other replicas of buildings on the campus.  These replicas are only intended to help visitors visualize the new look and architecture to be built on the their Livingston campus, not to be fully inhabitable spaces.   In order to realize the virtual build at a larger, more avatar-friendly scale, the build will soon be exported into Rutgers' OpenSim grid, where the campus will be enlarged to 1.5x scale and the interiors will eventually be built out and made accessible.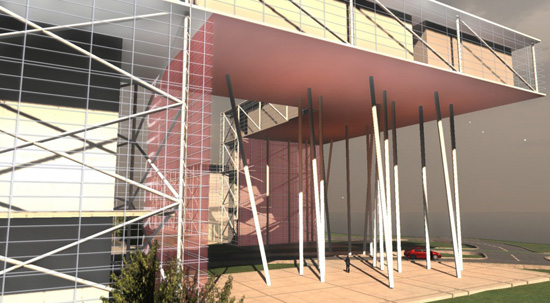 Congratulations to both Rutgers and TEN Arquitectos, for creating such an exciting design, and to Rick Anderson, for managing the creation of the virtual campus.  Also, be sure to check out all of the excellent work done by  Ceera Murakami, and DFox Splitteler who have done an outstanding job recreating the Rutgers campus.  The Business School is just one of many buildings created by this team, and the whole campus is definitely worth a visit.
Here is a video describing more about their virtual campus: