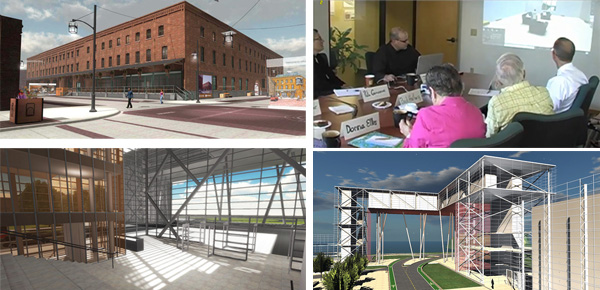 When?  10 am PDT 28 March 2012  http://timeanddate.com/s/27w5
Where?   http://maps.secondlife.com/secondlife/ARCHI21%20World/222/41/23
Jon Brouchoud, of Arch Virtual invites you to an open discussion with questions and answers based around 3 recent case studies of real world architectural projects that have made use of 3D immersive technologies in architectural practice and collaboration.
All are welcome to engage in the discussion with a specific focus on the pros and cons of adopting this approach with 3D immersive technologies.  
These case studies focus on:
1.   "Customer-Created Design" where senior citizens used Second Life to design their own retirement facility,
2.   "Virtual Dubuque" which is being used to invite community members to explore a new historic renovation project long before construction is completed.
3.  The new Rutgers School of Business building which has now broken ground in the real world.  This project was first modeled in Second Life, then brought into OpenSim, and finally into Unity3D.
We hope to see you on 28 March at 10:00 PDT at CritIMPACT for a lively discussion in a collaborative knowledge sharing experience.  The discussion session will be streamed and recorded as part of the ARCHI21 Project of which Arch Virtual is an Associated Partner.
Meeting point : http://maps.secondlife.com/secondlife/ARCHI21%20World/222/41/23
Time:  Check your time as the clocks change  http://timeanddate.com/s/27w5