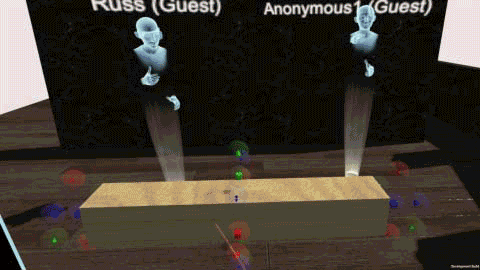 We're in the very early stages of brainstorming an Immerse VR podcast of some kind, and thought I'd share my thinking early to gather input.  Maybe we'll call it a VRodcast? Is that already a thing?
Any input, advice and topic ideas are welcome!
Main Idea:
Held in VR / Immerse Creator dedicated multi-player room for each topic – [link]
Focus on professional topics – architecture, medical, marketing, education — while leaning toward design and collaboration
Multi-player scene for each topic with relevant environments, assets, etc. that anyone can explore — either via Immerse Creator or free Immerse Viewer mode (VR and non-VR)
Save and share a copy of the Immerse scene after each event so anyone can access and explore it asynchronously.
Capture video for VR Podcast — post to YouTube / stream live on Twitch?
Capture and share 360 / video?
Potential Segments
Discuss and present best practices for using VR
Host presentations, round table discussions, interviews, etc.
Share client case studies – show select / relevant props from their project
Community showcase what others are working on – other Immerse Creator scenes, or import 3D environments / samples of content
Initial Topics
AEC / Architecture — Discuss potential for VR in AEC industry. Design charrettes, VR sketch hour, speed build, community showcase .
Medical simulation — operating room and healthcare environments and props — invite med-sim experts in for discussion / interview
Product Design — discuss ways VR can be used for rapid prototyping, remote collaboration, etc.
Marketing — Discuss / present potential and best practices for using VR to help sell at trade shows, etc. — share client case studies, discuss methods and strategies for successful implementation
Education — how VR can be used in education — invite university labs to share what they're working on — import content to share — discuss what's working for them, what they're looking forward to
Game Development — focused on design, architecture and environment  — latest thinking in game art and environments — import samples of game assets to review / showcase — help sell the game, gather design feedback
Other Random Thoughts
Create method and process for immersive podcasting with Immerse that others can replicate — consider building the platform and tools for it.
Over time, encourage others to create and share their own specialized topic events, scenes and VR podcasts
Community showcase when feasible — celebrate the works of others in the community
Focus on how to achieve success and achieve optimal results — uncover and share best secrets, tips and tricks to succeed.
Connect to international audiences
Gather input on how we can improve Immerse Creator
Various Immerse scenes for each topic continuously grow and improve over time — anyone can add their own content as well — becomes a library of content to explore.
Cross Cultural collaborative builds — people from all different geographic regions coming together
---
Also published on Medium.