Real Estate Development Simulations
We can bring your blueprints to life before a shovel ever hits the ground.
Real Estate Development Marketing and Pre-Sales
The building site is vacant, and construction hasn't started yet, but thanks to Panoptic Taris' new virtual reality experiences you can step inside the new building as if it were already built.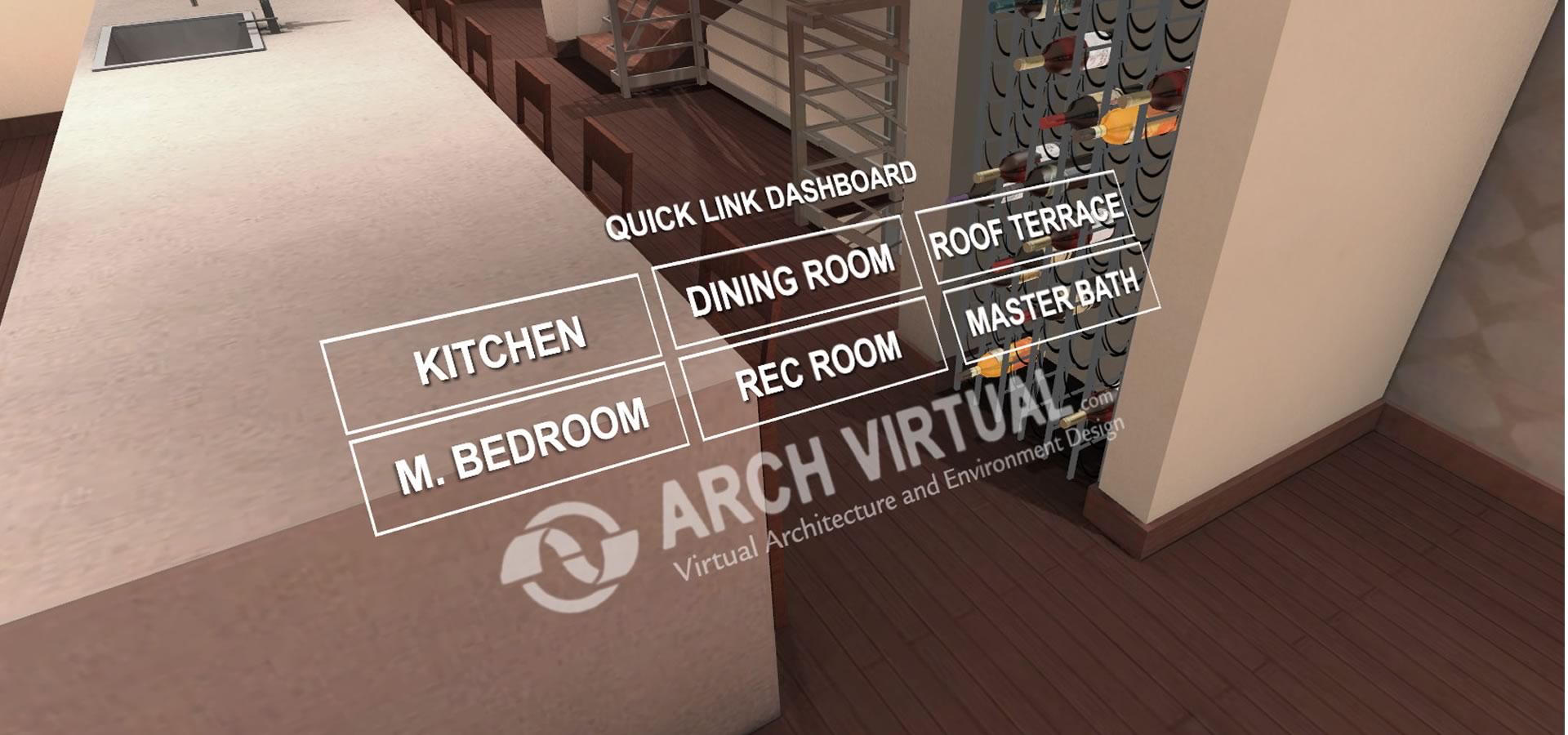 Navigate Virtual Reality With Our Quick Link Dashboard
One of the challenges of  getting people into a Rift experience who have never tried anything like it is that it can be somewhat disorienting.  In some cases, if new users move too quickly or too much, they can start to feel motion sickness.
Most users are fine, but some are more sensitive than others, so we developed the Quick Link Dashboard to eliminate the need to move from one location to another – which is what can occasionally cause motion sickness.
With this dashboard, you are able to enjoy a scene standing in a single location, then fade slowly into another location to avoid sudden movements and unnecessary motion.
Real Estate Marketing Simulation By The Panoptic Group
Arch Virtual created this interactive, real-time architectural experience for the Panoptic Group, based out of Chicago, Illinois.
The application was developed using the Unity3D game development engine, and can be embedded in a website (accessed HERE), or downloaded as a stand-alone application (download HERE).  A version that is compatible with the new Oculus Rift virtual reality display has also been made available for download (available HERE).
The virtual application enables potential buyers of a real estate development project to explore the building before construction starts. The application features a custom interface that enables visitors to view an animation, orbit a camera around the exterior, and jump to each of the floors.
The Unity3D Game Engine
"Since we're using Unity3D game engine technology that will be viewed in real-time, we have to be very mindful of performance.  Highly complex models sometimes require a translation process to optimize the model in preparation for use in the game engine.  Similar to the way traditional architectural illustrations are created by building a 3D model of the design, the virtual application uses an almost identical development process, but with a careful eye toward highly optimized modeling," said Jon Brouchoud, owner of Arch Virtual.
The cost of developing a virtual application is comparable with traditional illustration, but offers a far more engaging and holistic way of experiencing a design.
After experiencing a design this way, looking at a traditional architectural illustration seems inadequate.  You want to be able to spend time exploring the design at your own pace, experiencing each and every room of the building and improving on the design before construction starts.
The Oculus Rift Virtual Reality Headset
"We are also very excited to be releasing an Oculus Rift version of this build.  Experiencing architecture within the Rift is absolutely incredible, and has to be tried out firsthand to fully appreciate just how immersive the experience really is," said Jon Brouchoud, owner of Arch Virtual.
The Oculus Rift is a next-generation virtual reality headset designed for immersive gaming, but it clearly has applications in architecture and real estate development as well. The Oculus Rift version of the application includes a prototype of Arch Virtual's new "Quick Link Dashboard," that enables visitors to seamlessly fade from scene to scene.
Great Pre-Sales Tool
The virtual application enables potential buyers to explore the building before construction starts.
We Can Use Your Blueprints
This 3D model was built from architectural blueprints, but we can use CAD drawings, Autodesk, Revit and other 3D models, it is often just as effective to build from simple set of PDF drawings.
Quick Turnaround Time
While the application was only a phase 1 prototype, it was developed in just under 4 weeks and has been a huge success.
Not only does the Oculus Rift enable them to experience
the design, but it's also a lot of fun."
"Helping our customers understand the quality of the spaces we're creating is a very high priority for us. Not only does the Oculus Rift enable them to experience the design, but it's also a lot of fun. The virtual model helped us sell this property much faster than we could have otherwise.  It was very cost effective, and has proven to be a helpful marketing tool for our business."
Roman Popovych, of Panoptic Group
Our Projects